The opening of
Harry Potter & The Goblet of Fire
is a week away, and I'm feeling cautiously optimistic about getting my knitting done on time.
I have already finished the (Slytherin) House Mittens and the Eldest's Gryffindor House Scarf. To complement the Mittens, I am making a pair of House Gloves. I only have one finished, but it was such a quick knit that I expect to have the pair done by mid-week.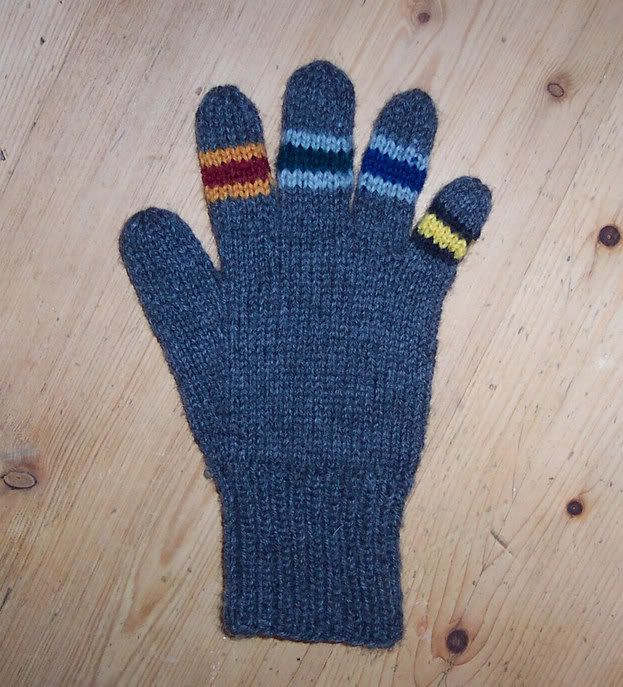 "But wait!" you say, as you lean forward in your desk chair and peer at your computer monitor through narrowed eyes. "You can't call these House Gloves. Each house has its own colors, and the trapped bar patterns on the glove's fingers are all different!"
You are right, of course. They would be more accurately called
School
Gloves, and were inspired by a friend of mine who took
The Sorting Hat Test
, only to find that her personality is so complex and mysterious that the Hat didn't know what to do with her. That, and I wanted to try making a pair of gloves. So. There we are.
It can be such fun when ideas collide like that.
In addition to the gloves, I've finished eight bars on Her Ladyship's Ravenclaw scarf, which means I can see a faint light glowing at the end of the Endless Stockinette Tunnel.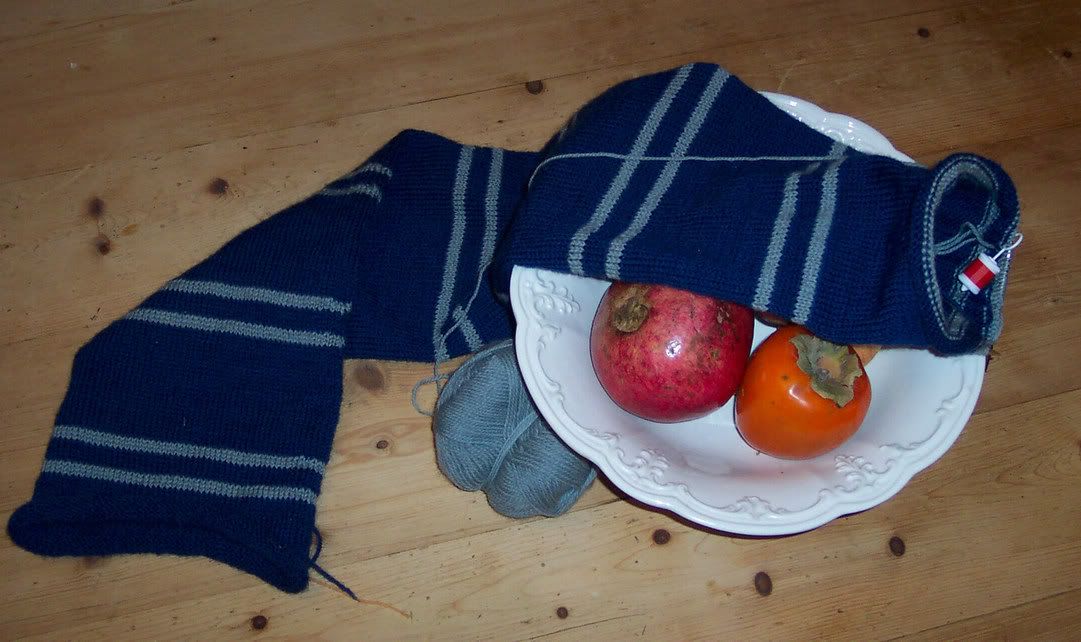 (Can I just say how much I'm liking the Brown Sheep Nature Spun? I used the worsted weight version for the mittens and gloves, the sport weight for the scarves, and it's just really, really nice to work with. I am almost ready to crown this my new Workhorse Wool. I just need to see how it wears first.)
I truly believe it can all be done on time, but I am not ruling out the possibility that come next weekend I will find myself frantically hooking fringe to the bottom of Her Ladyship's scarf in the car on the way to the movie.
What I wouldn't give for a pair of Molly Weasley's knitting needles right about now.